Customer Spotlight: Nez Perce Express
Nez Perce Express is located in Idaho on the Nez Perce Reservation next to the Clearwater River.
Customer Spotlight
Customer Spotlight: Nez Perce Express
November 16, 2021
Tell us about your store.
Nez Perce Express is located in Idaho on the Nez Perce Reservation next to the Clearwater River, the Steelhead fishing capitol of the world. The Nez Perce Express also provides the fishing permits to fish the Clearwater River we have Steelhead, Chinook Salmon and tunnel pond permits.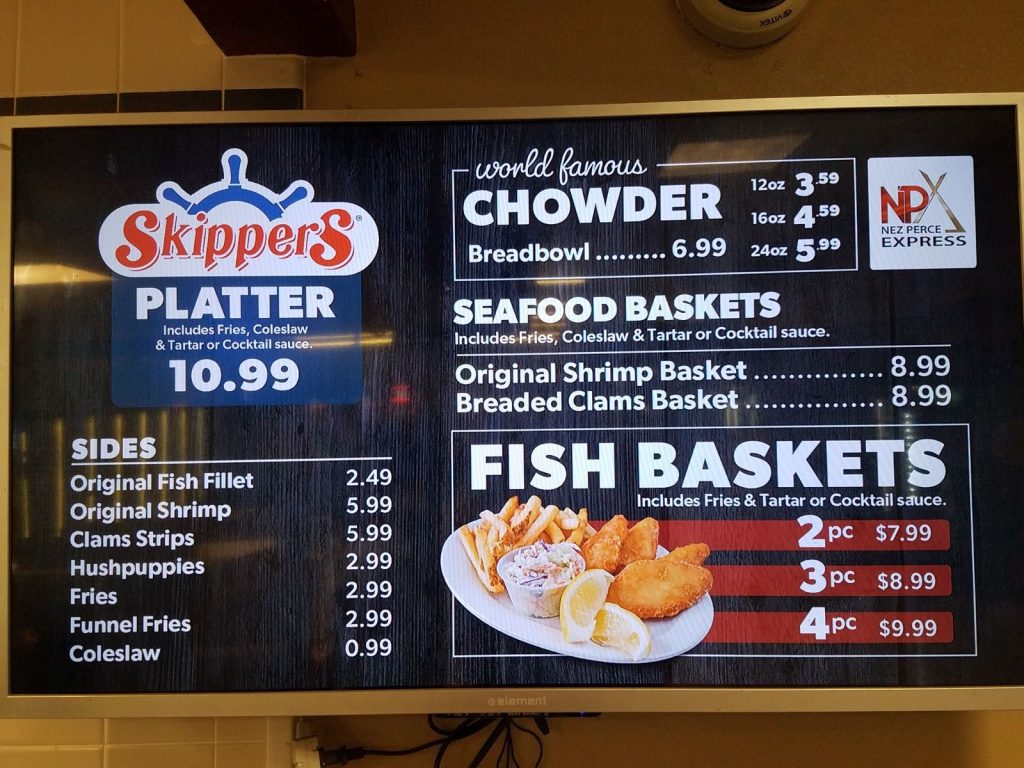 How has Harbor helped you to be successful?
Harbor has helped us to be successful by the support of providing great products, on time delivery service and store resets to help keep great store flow for our customers. Harbor has been a great partner as we continue to grow together in our success.
What unique programs do you have at your location?
Harbor helped us to get the Skippers program going which in turn considerably increased our deli sales. We also started the Harbor Watertown coffee program where we have a great following as well with this select brand of coffee.
How has your store been successful through COVID-19?
The Nez Perce Express store has maintained our customer base by providing a safe and sanitary store for our patrons.
OTHER Customer Spotlight
Discover More About What We Do
Posted on: November 16, 2021
Since 1923, Harbor has been a family-owned business supporting the family-owned businesses in our local communities. In celebration of Father's Day, we reached out to our customer Tek & Sundeep Sandhu, father-and-son owners of S&S Marts along the Oregon coast. Much like Harbor, their business is multi-generational and locally operated. Tell us about your stores (history, location, etc.) and how you support your community. Sundeep: My father, Tek Sandhu, was an immigrant from Punjab, India. He left home in his early twenties with a goal to build a better life for his family and achieve the American dream. Upon arrival, he worked in the farming industry. As he was able to gain experience, he landed a job at Winchell's Donut House. Through hard work and determination, he was able to go from Baker, to Assistant Manager, to Manager, and eventually District Manager. In 1998, my parents bought their first store, Day N' Night Market, in Vancouver, WA. From there, they bought more stores throughout Vancouver, and eventually on the coast in cities such as Seaside, Astoria, and Long Beach. One of the main reasons for the success of our stores is that we like to give back to the community as much as possible. Whether that's giving donations to local schools, or sponsoring an event, we always value building up the area where we do business. Another way we give back is through renovating our locations. New flooring, cabinets, coolers, shelving, and overall design help give the community a revived and clean look. Tell us about the family-aspect of your business. History, family members etc. How has being family-owned benefited your business? Sundeep: We have always been a family-oriented business. The mindset of family first and business second has helped us keep our priorities in check. We are a large family, but very connected. My father and I oversee the general operations of all the coastal stores, while my cousins, Govrdan and Davinder, are in charge of day to day operations. My mother helps run a few of the stores locally. The fact that we are a family-owned business has helped shape our business because it helps us view our employees as part of our family, who then show that same respect towards the customers. How has your partnership with Harbor helped you to be successful? Sundeep: Harbor has the same priorities that we have, supporting our local communities. Just like we treat our employees and customers as family, Harbor shows that same love to us. Harbor is there to support us when we are working on a new project, like a remodel. The responsiveness and connectivity that we experience from Harbor helps when we are expanding and improving our business. We have had an excellent experience with Harbor and are excited for the future.
Posted on: November 16, 2021
ABOUT SUN PACIFIC ENERGYSpanning four generations, the Eerkes Family has provided quality fuel products and exemplary service to all their customers. Beginning in Yakima, Washington after WWI with a Richfield service station, they invested in their community of Tri-Cities, Washington by providing heating oil and lubricants, which was just the beginnings of Sun Pacific Energy. Convenience stores were the added in the 1980's as well as acquisitions in Yakima and the Seattle area all to better serve their customers and communities. Sun Pacific currently operates 8 Sun Market stores, 4 Firehouse Sub restaurants and Golf Universe. They are expanding their footprint in Washington state with 4 more new locations over the next 2 years to include 3 more Sun Market stores and another Firehouse restaurant. COMMUNITY INVOLVEMENTSun Pacific Energy is committed to support the communities in which they conduct business. Each year the "Eerkes Memorial Golf Classic for Kid" is hosted by the Eerkes family and sponsored by Sun Pacific Energy. This annual event brings together the community and provides annual financial operating support for both organizations.Sun Pacific Proudly Supports:•Eerkes Memorial Golf Classic for Kids•Boys & Girls Clubs of America•YoungLife ASSOCIATIONSSun Pacific Energy personnel take an active interest and leadership positions in associations which directly impact the fuel and convenience store industries. Annual visits to Washington D.C. to interact with legislators continues to be an important component to monitor industry regulations.Staying ahead of current legislation and best business practices give Sun Pacific the edge in ensuring the best possible outcomes for both company-op and dealer sites. SUN MARKETS & HARBOR WHOLESALESun Markets has been a Harbor Wholesale Customer for 8 years. The Sun Pacific Energy team continually strives to maintain an excellent reputation in the communities they serve. They are founded upon three simple principles:•Friendliness: Working together as an efficient team to provide a consistently friendly and positive atmosphere for their customers and employees.•Cleanliness: Maintaining a safe and clean environment that provides quality products that are well merchandised at fair prices.•Honesty: Striving to be recognized as a leader because of their loyalty and integrity toward each other, their customers, their communities, and thir company. Sun Markets are your convenient on the go stop. If you are looking for a quick market to pick up your morning hot cup of coffee or some fresh food for a quick break, Sun Market is your place to stop. They offer fast and friendly service to make your pit stop as enjoyable as possible. Harbor has been instrumental in setting up new locations or revamping existing locations. With Harbor's expertise in merchandising and schematics they are confident that they are providing their customers the best experience with the best product offerings. Harbor has consistently helped them enhance their coffee and fresh food programs with innovative ideas and with new products to keep them relevant to customer buying habits. Harbor has been a great partner that truly invests the time and resources to create the professional look and feel of their Sun Market stores. Sun Markets enjoys working with another family run business that values their customers and keeps their commitments. Sun Pacific Energy was fortunate to keep all of our locations open throughout the pandemic. Every employee kept their job and they pulled together as a team to help each other and their community during this time. Sun Pacific donated over 4,000 meals to local schools with children in need. At the same time, Sun Pacific donated over 1,000 meals to First Responders and healthcare providers.