Product Feature: Cheez-It PUFF'd
The cheesiest poppable snack experience. Bite-sized, melt-in-your mouth, fun poppable shape, deliciously baked with 100% real cheese inside and out, for the cheesiest taste!
Product Feature
Product Feature: Cheez It PUFFd
June 7, 2022
The cheesiest poppable snack experience. Bite-sized, melt-in-your mouth, fun poppable shape, deliciously baked with 100% real cheese inside and out, for the cheesiest taste!

DISRUPT THE CATEGORY WITH CHEEZ-IT
TOP SELLING, ICONIC BRAND: Cheez-It remains the #1 cracker brand* in C-Store with a 46.0 share of Crackers
GROWTH DRIVER: Cheez Its have shown strong growth with +6.5% growth over the past 5 years vs. total cracker category growth of +1.1%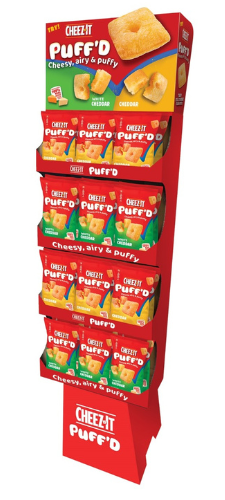 CHEEZ-IT CAPTURES IMPORTANT C-STORE OCCASIONS: Cheez-It answers the need for Lunch, Afternoon Snack, After Work Bite, and Late Night Snacking
CHEEZ-IT INNOVATION IS INCREMENTAL: Cheez-It has driven category growth, launching platforms that are incremental such as SNAP'd. New CI PUFF'd delivers a distinct product experience to help drive incrementality.
CHEEZ-IT SATISFIES CHEESY, SNACK CRAVINGS: Delivering the best of both worlds – cravable, 100% real cheese taste of Cheez-It combined with puffy, airy texture for a unique snacking experience on-the-go anytime, anywhere.
STRONG MEDIA SUPPORT: Massive commercial launch plan surpassing 2019 SNAP'd support, including TV, digital and social marketing, to reach over 80% of Cracker HH's.

OTHER Product Feature
Discover More About What We Do
Posted on: June 7, 2022
The newest and hottest (literally) meat snack to hit the market - Vacadillos Carne Seca! What is Carne Seca? It is 100% steak seasoned with various spices and flavors, including chiles and lime, and then air-dried and sliced into lean strips. All of our product is all natural with ZERO preservatives, ZERO Nitrites/Nitrates, and 0G of Sugar. PACKED with high protein in every bag! Not your traditional Jerky, but rather better & better for you - No need to gnaw on these - Every bite is tender and flavor packed to keep you coming back for more! We stand behind our product and ensure customer satisfaction! Now curb your cravings and melt your face off with bold Vacadillos flavors. Lean into the heat and taste the fire you've been craving.
Posted on: June 7, 2022
STIR UP THE PERFECT CUP WITH AMERICA'S #1 CREAMER BRAND. - COFFEE MATE® Coffee mate offers an innovative liquid creamer concentrate format that provides a rich, creamy flavor plus better value and less waste. These low-cost and efficient pumps allow for easy dispensing and can be cleaned in between uses. Exclusive to Coffee mate, it's the industry's only pump.Available in a 1.5 L pump to reduce packaging waste, the bottle requires no refrigeration and has a 9-month shelf life. With 300 servings per bottle, one pump bottle is equivalent to 300 creamer tubs. The Coffee mate pump bottle is available in 7 popular flavors that are cholesterol-free, gluten-free, lactose-free, and kosher dairy. The benefits of Coffee mate® Pump Bottles are endless:- Lower cost per servings vs tubs and bulk- Small, flexible footprint- Tamper-proof, locking, non-removable pump for food safety- Simplified operation – ambient use and storage, no refrigeration needed- 9-month shelf life unopened; 30-day shelf life opened- Portion control format; reduce packaging waste- Lactose-free; cholesterol-free; gluten-free and Kosher Dairy- Pack Size: 2x1.5L- Available flavors: Sweetened Original, French Vanilla, Hazelnut, Snickers, Salted Chocolate Caramel, Pumpkin Spice (seasonal) and Peppermint Mocha (seasonal) Not only is this format great for operators and consumers, but it's also good for the environment. Appeal to Millennials with reduced packaging options, 1 Pump Bottle is equivalent to 300 tubs! Less packaging is less waste and better shipping efficiencies with fewer trucks on the road.