Path of Progress Intern Feature: Brandon Williams
As we look for interns to join our team this summer, we wanted to highlight some team members who started in that role at Harbor, and went on to start their professional careers.
Path Of Progress
Path of Progress Intern Feature: Brandon Williams
May 5, 2022
How did your internship experience at Harbor prepare you for your professional career?
As an intern here at Harbor I was fortunate enough to work on the implementation of a new Warehouse Management System. Working on a project that is so impactful to the daily operations at Harbor I had the opportunity collaborate with several different departments to understand how each department and every individual at Harbor work together to achieve their goals. After school I was unsure on the direction I wanted to take my career, my time as Intern gave me the opportunity to explore my options for a career path and go in the direction that I found best for me. I have been with Harbor for 5 years now and they have been great about allowing individuals to take control of their career path and goals.
What was the most important thing you learned from your time interning?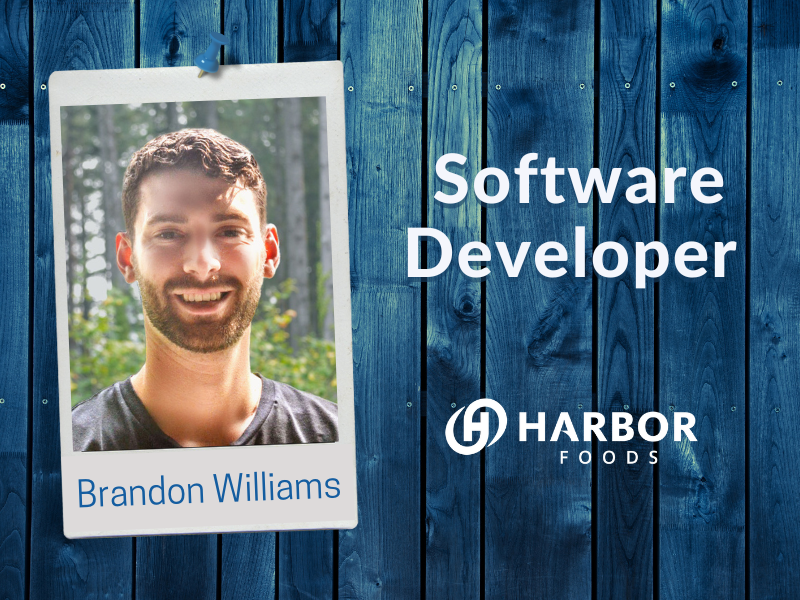 As an intern I was very excited to work and collaborate with so many different people in the company. During my internship I quickly learned the importance of communication and working together as a team to achieve our goals.
What roles have you've held at Harbor?
-Information Technology/Logistics Intern
-Business Analyst
-Enterprise Systems Analyst
-Software Developer
What is the most important piece of advice for having a successful career at Harbor?
Be accepting and excited about change, to be a successful business you go through a lot of change and improvements over time. Harbor has grown a ton over the years, and it has been fun to be a part of the growth and work with so many people that have years of knowledge and experience. Being prepared to take on the challenges of growth will set you up for a successful career at Harbor.
OTHER Path Of Progress
Discover More About What We Do
Posted on: May 5, 2022
Leon has worked various roles at Harbor, starting as a Stocker and working diligently to achieve his current role as Warehouse Manager. Q: How did you make the transition from where you started to where you are now? A: My career in grocery wholesale started with a company that Harbor later acquired. While there I went from order selection to stocking, and then on to delivery driver. I had a brief hiatus to pursue an opportunity driving elsewhere.  I returned after hearing how much Harbor had improved the operation, and incentivized hard work. Since then I have continued to learn and have always wanted more. I guess you could say I like a challenge, and here we are! Q: How long have you been with Harbor? A: It will be 15 short years on March 5th 2023 Q: Any advice for advancing your career at Harbor? A: My advice is to be a continuous learner. Ask questions and get involved. Take on more and be proud to do so, and when more is asked of you take it as a compliment. Q: What roles have you held at Harbor? A: Stocker, Delivery Driver, Receiver, Supervisor, A.M. Warehouse Manager, and currently Warehouse Manager.
Posted on: May 5, 2022
Through his years at Harbor, Adam worked in various roles, starting as a Delivery Driver and moving to his current role as a Transportation Manager. Q. How did you make the transition from where you started to where you are now?   A. My first role at Harbor was a full-time delivery driver out of the Tumwater, WA warehouse, which later moved to the current Lacey, WA warehouse.  I worked as a delivery driver for 10 years and enjoyed working directly with our customers and salesreps.  After we moved to the Lacey warehouse, I showed interest in moving up within the company and into a management position, but I wasn't selected.  I guess it wasn't the right time.  A management opportunity came available later, but it required relocating my family to the Marysville, WA area.  After taking that initial step, I began to learn new things about Harbor and the operations and continued advancing throughout different roles, to where I am now. Q. How long have you been with Harbor?  A. Feb 2023 will be 17 years. Q. Any advice for advancing your career at Harbor?  A. Stay true to Harbor's core values of being genuine, motivated, resourceful, and friendly.  There are a lot of opportunities within Harbor to advance because the company is continually growing.  Advancing within the company will require constant improvement because there are a lot of things to learn about an operation. Q. What roles have you held at Harbor? A. Feb 2006- Delivery driver- Tumwater, WA and Lacey, WA July 2016- North Area Driver supervisor- Mount Vernon and Everett, WA July 2018- Dispatch supervisor- Lacey, WA April 2019- Driver supervisor- Lacey, WA March 2021- Assistant transportation manager- Lacey, WA July 2022- Transportation manager- Lacey, WA Q. What do you think is the most important quality to have to get your career started at Harbor? A. I think the most important quality is being friendly and working with others.  Harbor is a family, and a family is a team.  Working together as a team is extremely important.