Confectionary Continues to Grow
Confectionery Category is growing at 17% YTD in the Pacific Division and both dollar and unit sales are growing.
Product Feature
Confectionary Continues to Grow
June 7, 2022
• Confectionery Category is growing at 17% YTD in the Pacific Division and both dollar and unit sales are growing
• Trips are currently down, however basket sizes are up
• Consumers are trading up to larger pack types
• Peg Bag and SUP driving growth in Fruity Confections
• Peg Bag makes up the largest share of Fruity Confection dollar sales and is up 19.4%
• Ensure you are offering a variety of Peg & Stand Up bag items
• Mega Pack Segment is driving the largest growth in the Gum Category
• Mega Pack is up 103%
• Single pack gum is up 13.5% and still the largest pack type in the gum category at 56%
• Ensure you are carrying Mega Pack Gum while still offering the form, flavor and variety offered by Singles
• Nearly 10% of Confectionery sales would be missed without new items
• Support Speed to Market with New Item Innovation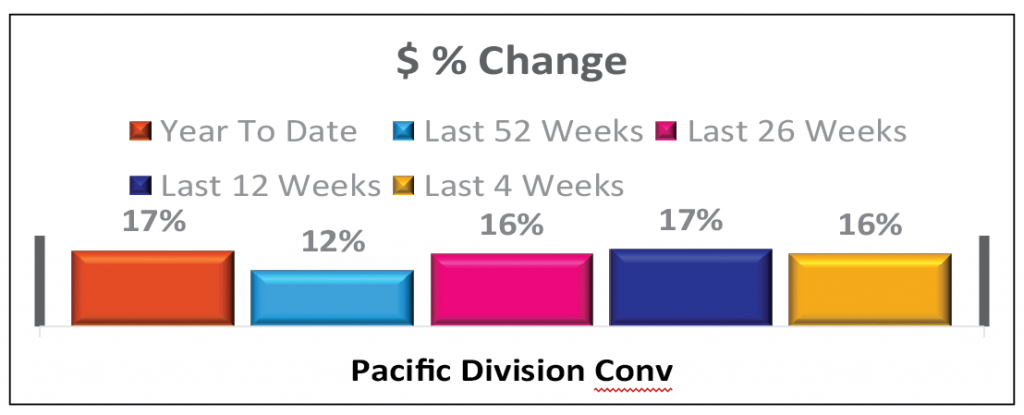 Content provided by Mars Wrigley.
OTHER Product Feature
Discover More About What We Do
Posted on: June 7, 2022
The newest and hottest (literally) meat snack to hit the market - Vacadillos Carne Seca! What is Carne Seca? It is 100% steak seasoned with various spices and flavors, including chiles and lime, and then air-dried and sliced into lean strips. All of our product is all natural with ZERO preservatives, ZERO Nitrites/Nitrates, and 0G of Sugar. PACKED with high protein in every bag! Not your traditional Jerky, but rather better & better for you - No need to gnaw on these - Every bite is tender and flavor packed to keep you coming back for more! We stand behind our product and ensure customer satisfaction! Now curb your cravings and melt your face off with bold Vacadillos flavors. Lean into the heat and taste the fire you've been craving.
Posted on: June 7, 2022
STIR UP THE PERFECT CUP WITH AMERICA'S #1 CREAMER BRAND. - COFFEE MATE® Coffee mate offers an innovative liquid creamer concentrate format that provides a rich, creamy flavor plus better value and less waste. These low-cost and efficient pumps allow for easy dispensing and can be cleaned in between uses. Exclusive to Coffee mate, it's the industry's only pump.Available in a 1.5 L pump to reduce packaging waste, the bottle requires no refrigeration and has a 9-month shelf life. With 300 servings per bottle, one pump bottle is equivalent to 300 creamer tubs. The Coffee mate pump bottle is available in 7 popular flavors that are cholesterol-free, gluten-free, lactose-free, and kosher dairy. The benefits of Coffee mate® Pump Bottles are endless:- Lower cost per servings vs tubs and bulk- Small, flexible footprint- Tamper-proof, locking, non-removable pump for food safety- Simplified operation – ambient use and storage, no refrigeration needed- 9-month shelf life unopened; 30-day shelf life opened- Portion control format; reduce packaging waste- Lactose-free; cholesterol-free; gluten-free and Kosher Dairy- Pack Size: 2x1.5L- Available flavors: Sweetened Original, French Vanilla, Hazelnut, Snickers, Salted Chocolate Caramel, Pumpkin Spice (seasonal) and Peppermint Mocha (seasonal) Not only is this format great for operators and consumers, but it's also good for the environment. Appeal to Millennials with reduced packaging options, 1 Pump Bottle is equivalent to 300 tubs! Less packaging is less waste and better shipping efficiencies with fewer trucks on the road.