Haribo is a proven winner in their category, with GoldBears being an iconic brand customers know and love.
Product Feature
Celebrate Haribo!
September 9, 2021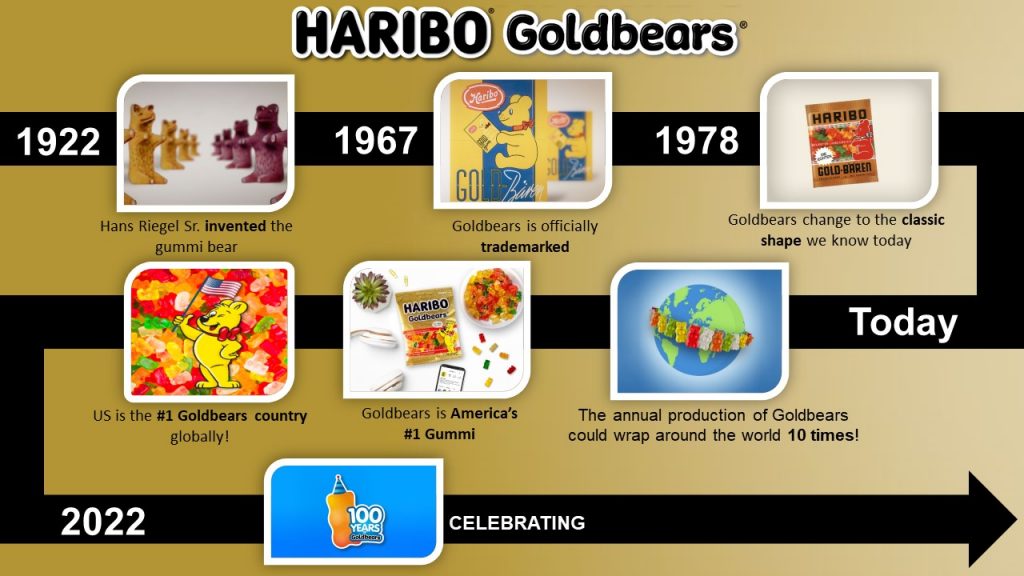 Haribo is a proven winner in their category, with GoldBears being an iconic brand customers know and love. With their 100 anniversary being celebrated, customers can enjoy new products like Limited Time Party Hat gummies and flavors like Blue Raspberry, Pineapple and Watermelon.
In addition to their 100 year anniversary, Haribo has other new products like Haribo Sour Kicks Z!NG! This product provides a highly unique sour experience, delivering BIG sour flavor in every bite without the mess of a sour dust coating. Each stylish sneaker will electrify your taste buds with a range of fruity flavors.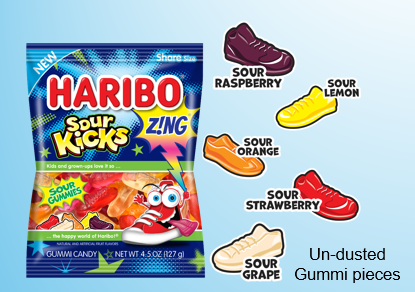 This new product has strong consumer testing results, it is highly rated by consumers as a fun product! This further expands Z!NG's offering of fun, unique and playful shapes and forms.
OTHER Product Feature
Discover More About What We Do
Posted on: September 9, 2021
Tillamook Country Smoker Meat Snacks deliver what salty snackers seek while attracting new consumers and offering a strong product affinity with "healthier" products and beverages. Typically on a budget and crunched for time while looking for a protein-packed snack, the c-store meat snack consumer finds exactly what they're looking for on the fly with both traditional and better-for-you Tillamook Country Smoker meat snack options. With 25% of consumers saying they're snacking more frequently these days,[1] Tillamook Country Smoker's diverse portfolio sets store owners up for success in capturing a wide range of shopper snacking demand and maximizing sale potential. Perfect Portable Protein for On the Go Made with premium beef & pork real hardwood smoked to perfection, Tillamook Country Smoker Individually Wrapped Meat Sticks are the fastest growing in the channel and are gaining share.[2] Offered in top-selling flavors that meet consumer preferences, their 1.44oz Individually Wrapped Meat Sticks are also in the Top 10 unit movers in the category with their Pepperoni and Teriyaki sticks moving ~1.5x faster than the category Units/Store/Week average.[3] With 17% of consumers buying more larger sized packages,[4] Tillamook Country Smoker's 4oz, 10oz & 12oz Smoked Sausages in a Bag also offer a convenient, shareable snacking solution for those seeking more than just 1 meat stick to refuel. The Category Leader in Zero Sugar Innovation Taking a protein-packed approach to convenient, better-for-you snacking, Tillamook Country Smoker Zero Sugar Beef Jerky & Smoked Sausages attract new c-store consumers and drive frequency. With zero sugar, zero carbs, 9-14g of protein per serving, and no MSG, added nitrites, gluten or artificial ingredients, they're the ideal snack for consumers looking to cut back on sugar consumption without compromising on flavor. Tillamook Country Smoker's newest addition to their Zero Sugar line-up includes a spicy yet balanced Zero Sugar Hot & Spicy Jerky powered by premium habaneros and available in convenient, resealable bags in small (2.2oz) and big (6.5oz) sizes. Increasing Category Velocity Average with Bulk Meat Snacks The #1 manufacturer of bulk meat snacks for 10+ years, Tillamook Country Smoker raises the Meats Snacks Category Velocity in national chains with its bulk product by 10%.[5] In 2020, Tillamook Country Smoker introduced a new COVID-friendly, "deli-style" wrapped jerky & smoked sausages line. Responding to shifting shopper behavior and preferences that are likely to stick around beyond the pandemic, the individually vacuum-packed nature of these meat sticks locks in freshness and increases shelf life with a packaging design that evokes both small-batch quality and value. The product targets both previous bulk customers and new customers, offering a solution for a $5 snack pack at an accessible, impulse-buy price point that helps increase basket size. Designed for the ultimate merchandising versatility in-store, Tillamook Country Smoker also offers eye-catching, customizable display racks, caddies, and clip strips to make it easy for bulk meat snack fans to stock up. [1] IRI 2021 Snacking Survey % of Consumers [2] IRI L26 12.27.20 Total US Convenience [3] IRI L13 WE 4.18.21 Total US Convenience, IW Traditional Sticks ACV >6.0 [4] IRI 2021 Snacking Survey % of Consumers [5] IRI L26 WE 1.24.21 Total US Convenience
Posted on: September 9, 2021
On March 4th, WB kicked off their marketing efforts for Space Jam: A New Legacy with an exclusive article & cover story on Entertainment Weekly, setting this up to be the hit movie of the Summer! This is also the first time LeBron is speaking out about this previously top-secret project. Lastly, the article confirms the previously communicated release date of July 16, 2021! • Entertainment Weekly article In the month of May, you can get your store ready for the Space Jam release with exclusive Ferrara products.