Harbor Receives The First Annual Excellence In Safety Award from the Washington Food Industry Association
June 5, 2019
This year the Washington Food Industry Association launched the Excellence in Safety Award. They came to Harbor, as well as many other businesses, and interviewed our (and the competition's) CEO, a safety committee member, a floor employee, and a manager to learn about what we are doing and evaluate our commitment to safety. They also reviewed our applicable documentation and completed a facility walkthrough to spot check our work and validate the effectiveness of our programs. Other large businesses in the WFIA include Charlie's Produce, Franz, and McLane Northwest as well as many other grocery store chains and suppliers. We have many great partners who became our competition for this award and we won! I'm proud to announce that Harbor Wholesale Foods was selected as the winner of the 1st Annual Excellence in Safety Award!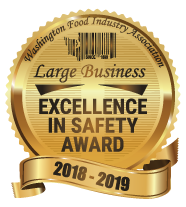 We are very proud of our team's achievement. We have been anxious to raise the bar on safety in any way possible. In entering evaluation for this award, the chance to win was a driving factor, but the ultimate motivator was to up our game; to meet and exceed the standards set forth. We were also interested in seeing who else would enter to give us some ideas with whom to compare programs and drive further excellence. We have been establishing a culture wherein every manager's primary job is safety manager. We have been empowering employees to deeply engage in the safety of the team, driving increasing feedback, suggestions, and participation in the safety process. While we have improved our results, establishing a healthy management commitment to safety is our proudest achievement.
Congratulations Team Harbor for making a difference in safety! Congratulations for caring for our team and community by building our culture of safety! Excellence is a pursuit, a way of life, not an end. Keep driving!