The increasing customer demand for healthier, ready-to-eat options from convenience stores creates new opportunities for retailers. Take advantage of customer needs, wants, and in turn, grow sales.
Product Feature
We Are Northwest Fresh
December 9, 2019
The increasing customer demand for healthier, ready-to-eat options from convenience stores creates new opportunities for retailers. Take advantage of customer needs, wants, and in turn, grow sales.
With our new agreement with Partnership For A Healthier America (PHA), timing has never been better to add better-for-you and healthy products to your store. This product list is made up of products approved by PHA's Healthier Food and Beverage Guidelines.
Try adding some of these items to your store for better visibility & increased sales when it comes to healthy foods!
41% of consumers want snacks that provide an energy boost, while 80% of consumers are willing to pay more for snacks with health attributes according to the Hartman Group's The Future Of Snacking Study.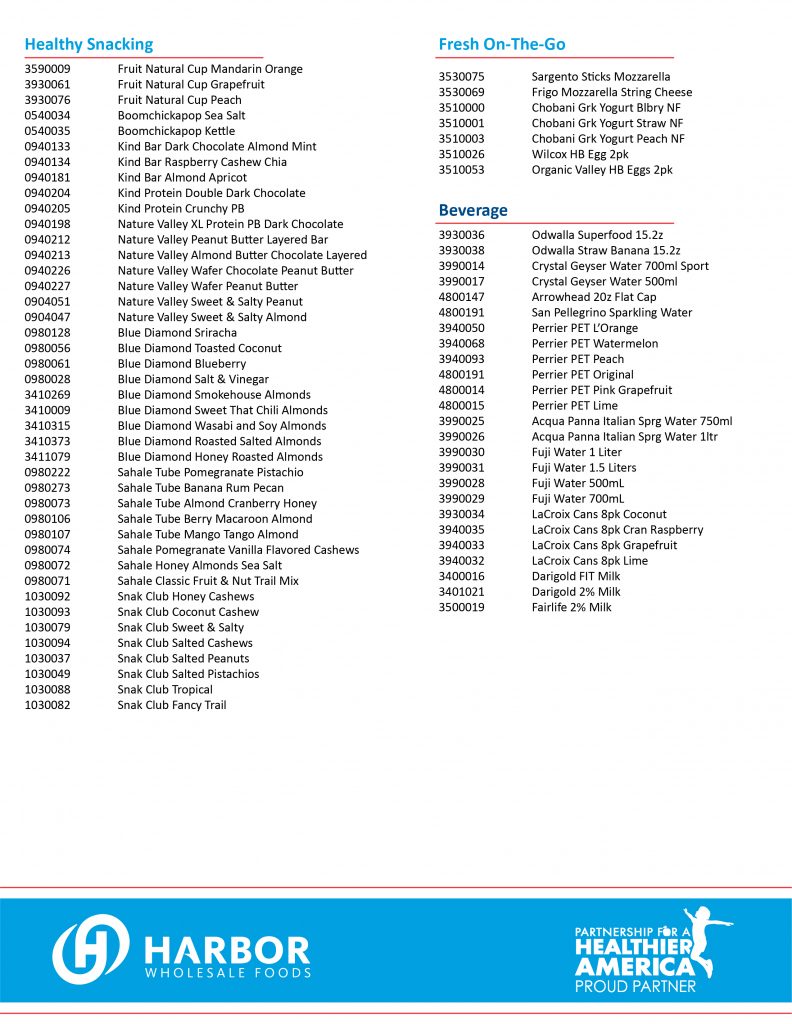 OTHER Product Feature
Discover More About What We Do
Posted on: December 9, 2019
Ritz Crispers have a universal appeal to anyone who loves cheese crackers. Ritz Cheese Crispers Cheddar Chips are oven baked, not fried, with a delightfully crispy, thin texture and an irresistible crunch. Made with real cheese, Ritz potato and wheat chips have a sharp flavor that is satisfyingly delicious. Pack these potato and wheat snack chips in lunchboxes for a crunchy companion to sandwiches. Cheese Crackers Are 1.3x More Important To Convenience Shopper Than Total U.S.Cheese crackers have the highest repeat purchase rate than other cracker types.The cracker category is large at $215M and growing +16.25%.Cheese crackers are exceeding Category Growth at +20%.Cheese crackers are 34$ incremental to the cracker category.New Ritz Crispers are estimated to be ~50% incremental to the total cracker category. Ritz brand is growing both in the convenience channel and total US sales. Information provided by Mondelez.
Posted on: December 9, 2019
In a fast-paced world where consumers' lifestyles and identities are quickly evolving, so too are their expectations around food. Great-tasting food is still incredibly important. But it's become table-stakes, because in today's world, consumers need so much more from the brands they buy. Consumers are seeking elevated experiences, creating a more personalized approach to overall wellness (including mental health), and looking for innovation to aid in quick, and expressive decision-making.(McKinsey & Company). All snack food types are winning in the morning, and on & off munching has become less sweet while savory is growing. Salty Snacks is one of the strongest performing categories in C-Stores, generating $15.76 in revenue per 100 store visitors, well above average for the channel. Salty Snacks has very strong appeal to a variety of ethnic groups, as Hispanic (18%) and African American (14%) shoppers are heavily overrepresented relative to their storewide averages. Caucasian shoppers, who represent the lion's share of shoppers storewide, under-index at 66% of Salty shoppers. Salty Snacks shoppers also are slightly younger than the general shoppingpopulace of the stores. Millennials represent 52% of Salty shoppers, on the high side of average, while Children under 18 account for 2% (above average).(Videomining 2019) Lunch (11 AM-2 PM) is the key daypart for Salty Snacks, accounting for 20% of daily sales. No single aspect of its performance peaks at Lunch, but its overall exposure, engagement, and closure are all at near-daily highs. Salty performed very well during Late Night, generating 7.4 buyers per 100 store visitors. Overall, there are fewer people in stores during this daypart, so the daypart only accounts for 9% of daily sales.(Videomining 2019) Warehouse Salty is up +1.3% in the Pacific Division over the past year. Chex Mix, Bugles, and Gardetto's are all in the Top 10 brands for the region. Gardetto's Original Snack Mix is the #1 item by dollar sales in the market, followed by Cheez It Grab N Go Cheddar 3oz. Gardetto's Rye Chips, Chex Mix Traditional 3.75oz, Chex Muddy Buddies. Article content provided by General Mills.