Salty snacks see steady growth across all demographics
Salty snacks see steady growth across all demographics
Product Feature
Salty snacks see steady growth across all demographics
July 9, 2020
In a fast-paced world where consumers' lifestyles and identities are quickly evolving, so too are their expectations around food. Great-tasting food is still incredibly important. But it's become table-stakes, because in today's world, consumers need so much more from the brands they buy. Consumers are seeking elevated experiences, creating a more personalized approach to overall wellness (including mental health), and looking for innovation to aid in quick, and expressive decision-making.
(McKinsey & Company).
All snack food types are winning in the morning, and on & off munching has become less sweet while savory is growing.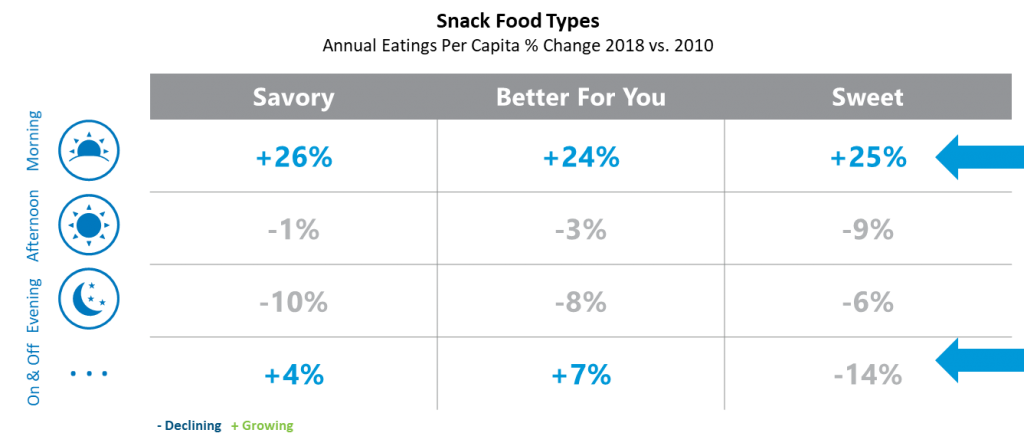 Salty Snacks is one of the strongest performing categories in C-Stores, generating $15.76 in revenue per 100 store visitors, well above average for the channel.
Salty Snacks has very strong appeal to a variety of ethnic groups, as Hispanic (18%) and African American (14%) shoppers are heavily overrepresented relative to their storewide averages.

Caucasian shoppers, who represent the lion's share of shoppers storewide, under-index at 66% of Salty shoppers. Salty Snacks shoppers also are slightly younger than the general shopping
populace of the stores. Millennials represent 52% of Salty shoppers, on the high side of average, while Children under 18 account for 2% (above average).
(Videomining 2019)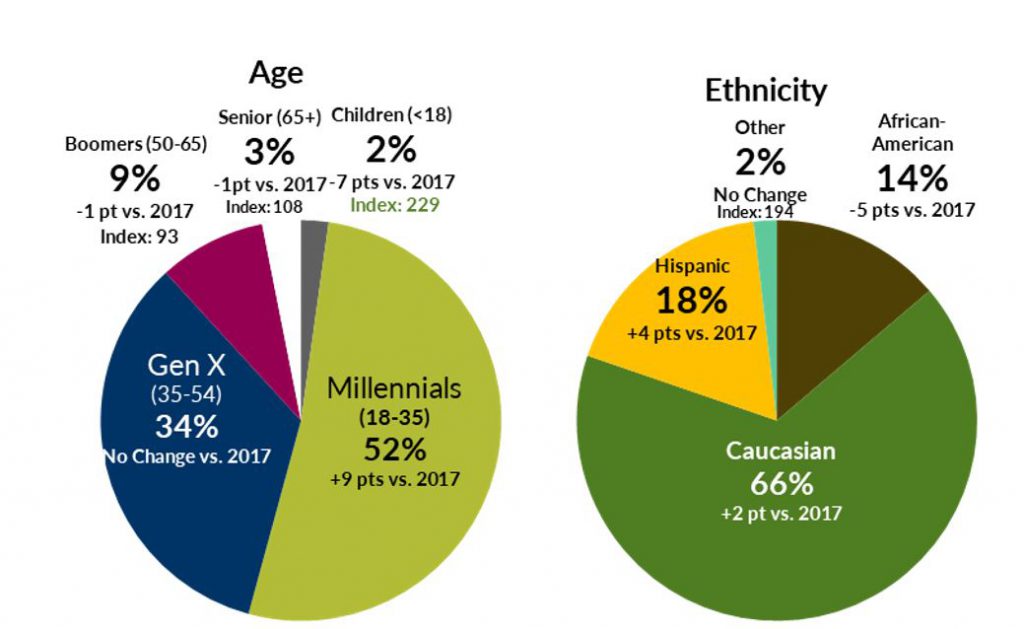 Lunch (11 AM-2 PM) is the key daypart for Salty Snacks, accounting for 20% of daily sales. No single aspect of its performance peaks at Lunch, but its overall exposure, engagement, and closure are all at near-daily highs. Salty performed very well during Late Night, generating 7.4 buyers per 100 store visitors. Overall, there are fewer people in stores during this daypart, so the daypart only accounts for 9% of daily sales.
(Videomining 2019)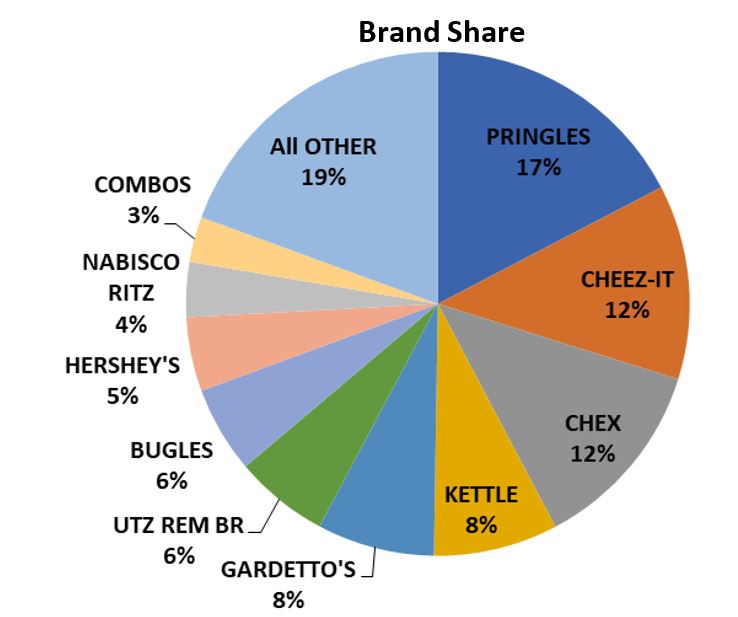 Warehouse Salty is up +1.3% in the Pacific Division over the past year. Chex Mix, Bugles, and Gardetto's are all in the Top 10 brands for the region. Gardetto's Original Snack Mix is the #1 item by dollar sales in the market, followed by Cheez It Grab N Go Cheddar 3oz. Gardetto's Rye Chips, Chex Mix Traditional 3.75oz, Chex Muddy Buddies.
Article content provided by General Mills.
OTHER Product Feature
Discover More About What We Do
Posted on: July 9, 2020
NERDS is expanding its fun and innovative candy line with the launch of the crunchy, gummy, yummy invention you've been waiting for... new NERDS Gummy Clusters! Each poppable piece has crunchy, tangy, mini NERDS clustered around a sweet gummy center for a fun-to-eat, dual-texture treat. Available in the Nerds Rainbow flavor with a fruity gummy, this shareable treat is also perfect for on-the-go snacking. NERDS believes in the power of teamwork. It took a creative and nerdy team of scientists, engineers, researchers, marketers, and more to bring to life the idea of incredible NERDS-coated gummies. NERDS is the playful and fun-to-eat candy with a variety of delicious, crunchy, chewy and gummy options: Original NERDS including the iconic dual-flavored box, NERDS Ropes, Big Chewy NERDS… and now NERDS Gummy Clusters. The original iconic box couples two complementary flavors with dual chambers, allowing candy lovers to pour out perfectly imperfect pieces of pure delight. NERDS Ropes give fans a chewy, fruity string packed with crunchy, sweet NERDS, and Big Chewy NERDS and Sour Big Chewy NERDS have a crunch that surrounds a chewy center. The new NERDS Gummy Clusters have tangy, crunchy, mini NERDS clustered around a sweet gummy center for a poppable tasty bite. The NERDS brand believes that everyone is perfectly imperfect, just like its candy, and wants to encourage people to embrace and celebrate the nerdiness in everyone. The brand champions unleashing your passion, smarts, and creativity to be great at something, anything and everything you choose. NERDS come in many shapes, sizes and colors – and no NERDS are exactly the same. NERDS stories feature six different colors of NERDS characters who each represent a different type of NERDS personality, from creative to spontaneous, and the NERDS characters are always better when they work together. For more information on NERDS, please visit www.nerdscandy.com
Posted on: July 9, 2020
In 2019, Oberto launched a line of charcuterie products that quickly became popular across the Pacific Northwest. Charcuterie is a French word used to describe a variety of cold, cooked or cured meats, which has taken the world by storm in 2020. Oberto charcuterie has artisanal qualities, and specialty cheeses and meats which make this the perfect high quality on the go snack, appetizer or even meal with your salad or in a sandwich. The Oberto legacy started in 1918 when Constantino Oberto introduced authentic Italian Salame and cured meats to the Pacific Northwest. With every step forward, Oberto has always looked back to make sure they're holding onto their heritage. Oberto charcuterie is imported from Italy where the tradition of cured meats and cheeses has been handed down through generation after generation, where the finest prosciutto, salame and cheeses are created. With nine different varieties and sizes of charcuterie, including prosciutto, provolone and fontinello cheeses, Oberto has the perfect tray for any occasion. Oberto prosciutto is aged for a minimumof one year and made with only two ingredients, porkand salt. Oberto provolone and fontinello cheeses are made with 100% Italian milk collected everyday from farms within 50 miles of the Italian production site. Curds are stretched and kneaded in the traditional technique, creating the soft and elastic texture. Each of our nine trays has something different to offer. A lot has changed in the 102 years since Constantino Oberto arrived in America, but one thing has always remained the same – quality, flavor and heritage. Oberto charcuterie is above all others, so upscale your assortment today!