Path of Progress: Kristina Merritt
Kristina joined the Harbor team in 2017 as our Accounts Payable Lead. Since joining our accounting department, she's been a part of their department's growth, eventually transitioning to her current role of Accounts Payable Supervisor
Path Of Progress
Path of Progress: Kristina Merritt
March 20, 2020
Kristina joined the Harbor team in 2017 as our Accounts Payable Lead. Since joining our accounting department, she's been a part of their department's growth, eventually transitioning to her current role of Accounts Payable Supervisor.
Q: How did you make the transition from where you started to where you are now?
K: My initial role at Harbor began with a newly established position to support our AP team. I had over 10 years of diverse accounting experience across many different industries. Harbor saw potential to strengthen our AP team structure by hiring me as a lead.
Q: How long have you been with Harbor?
K: I have been with Harbor for almost three years. I often look back at where our team transitioned to modern, paperless workflow management, creating a huge turning point for our team within my first year.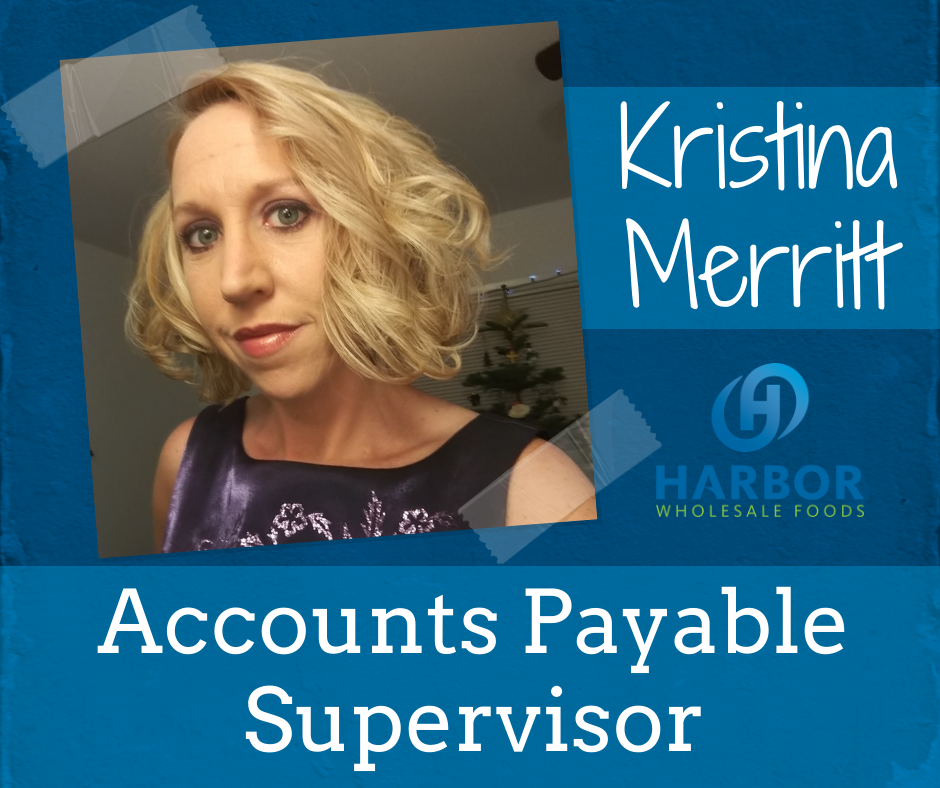 Q: Any advice for advancing your career at Harbor?
K: I believe in order to truly advance your career at Harbor you need to be very versatile and resourceful. Career advancement requires outside of the box thinking, being capable of wearing multiple 'hats', and ability to cross departmental lines to expand your knowledge and growth. If you are someone who is determined to find the answers you seek, then Harbor is the right fit.
Q: What roles have you held at Harbor?
K: I began as an AP lead for the accounting team in 2017. Our enterprise has grown exponentially since then, creating the opportunity to lead further, by being promoted a year later as manager for our AP team.
Q: What do you think is the most important quality to have to get your career started at Harbor?
K: Harbor carries unique opportunities to those who are motivated to be in the driver seat of their own success. If you are they type that can overcome any obstacle, likes fast paced, collaborative, team environments then your career at Harbor can, and will mature. Although we have become a large enterprise, the family dynamic at Harbor is quite unique and beyond commendable. Simply put, this unique motivator puts success in the hands of the individual and their teams. In twenty years, I have not found in any other public or private enterprise that can compare to Harbor.
OTHER Path Of Progress
Discover More About What We Do
Posted on: March 20, 2020
How did your internship experience at Harbor prepare you for your professional career? As an intern here at Harbor I was fortunate enough to work on the implementation of a new Warehouse Management System. Working on a project that is so impactful to the daily operations at Harbor I had the opportunity collaborate with several different departments to understand how each department and every individual at Harbor work together to achieve their goals. After school I was unsure on the direction I wanted to take my career, my time as Intern gave me the opportunity to explore my options for a career path and go in the direction that I found best for me. I have been with Harbor for 5 years now and they have been great about allowing individuals to take control of their career path and goals. What was the most important thing you learned from your time interning? As an intern I was very excited to work and collaborate with so many different people in the company. During my internship I quickly learned the importance of communication and working together as a team to achieve our goals. What roles have you've held at Harbor? -Information Technology/Logistics Intern -Business Analyst -Enterprise Systems Analyst -Software Developer What is the most important piece of advice for having a successful career at Harbor? Be accepting and excited about change, to be a successful business you go through a lot of change and improvements over time. Harbor has grown a ton over the years, and it has been fun to be a part of the growth and work with so many people that have years of knowledge and experience. Being prepared to take on the challenges of growth will set you up for a successful career at Harbor.
Posted on: March 20, 2020
How did your internship experience at Harbor prepare you for your professional career? The internship experience helped me learn the importance of building an effective report that everyone can understand. I learned that it's not about how much data you have, but rather it's about how can you make the data accessible to everyone. Having numbers is a great tool to have but unless you are able to break it down for others to use then it will not be useful. In my current role I am always building and maintaining reports that are used across multiple departments. Each time I build a new report I always pull from my past experiences as an intern. What was the most important thing you learned from your time interning? The most valuable thing I learned was how each department fits within the operation. The internship program allowed me to meet with many people in different roles in the business. I spoke and learned from people in just about every department. Understanding how every department worked helped me see the entire picture of the operation. What roles have you held at Harbor? Order Selector pick mods for two summersOperations InternQuality Assurance CoordinatorQuality Assurance and Safety Coordinator (Same position as above, but just added workplace safety to my role) What is the most important piece of advice for having a successful career at Harbor? The most important piece of advice that I can give someone would be to never be afraid of making a mistake. Harbor is a great working environment that will allow you to used missed opportunities as a chance to grow and learn in your career.