Why should you expand your Water & Sparkling Water Category?
November 13, 2019
What is driving the increase in water sales?
With more consumers putting a focus on low calories beverages, Water and Sparkling Water products are seeing a spike in sales. According to a 2016 report from NACS, bottled water outshined soda in sales for the first time in U.S. history. Bottled water producers, like Nestle Waters & Perrier products, pointed to America's desiring portable, calorie-free beverages for the increase in bottled water sales. This trend is predicted to continue in the coming years.
Another driving force behind the increase in Water sales in Partnership For A Healthier America (PHA) working with both NACS and wholesalers like Harbor Wholesale Foods.
Partnership For A Healthier America is a nonpartisan nonprofit organization that is led by some of the nation's most respected healthy and childhood obesity experts. PHA brings together public, private and nonprofit leaders to broker meaningful commitments, like increasing water sales, and develop strategies to end childhood obesity. Harbor Wholesale began working with PHA in 2019 establishing goals to make healthier food options more readily available through the Pacific Northwest.
What products can you add to your store?
Sparkling water is experiencing extreme growth in the Convenience channel and is not expected to slow any time soon. Experts anticipate category sales ($) to double in the next three years. 67% of new sparkling water customers are entering through flavors. Having a broad flavor variety is critical to capture new and returning customers.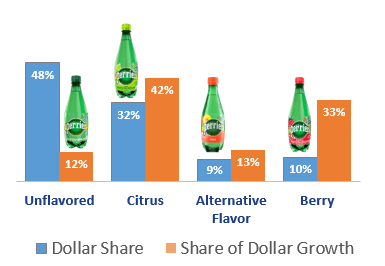 When it comes to flavor, variety, and being PHA approved, Perrier has you covered! With flavors like L'Orange, Watermelon, Peach, Pink Grapefruit classics like Original, there's a flavor every customer will love. Plus, Perrier products are contributing to Sparkling Water market growth.
Now, more than ever, it's important to add better-for-you products to your store to appeal to every customer. Harbor Wholesale is here to help make sure you have the best product selection available in your store. If you're interested in learning more about PHA approved and Perrier products, talk to your Harbor Wholesale Sales Representative! Here's to a healthier 2020 and beyond!