Snack Bars Achieving Healthy Growth
April 2, 2019
Snack Bars have increased 50% in sales growth over the last 5 years.
Snack Bars sales trends are now flattening after 4 years of steady growth, but remains a $85 million dollar category in convenience stores on the West Coast.
What's driving this nutritional sub-segment?
Increased demand for organic snack bars
In today's world consumers are concerned about the origin and quality of ingredients used in the preparation of food products, driving the popularity of organic
packaged foods.  Organic snack bars fit with health-conscious consumers, and "organic" is an attractive attribute that wins over
processed foods with chemical additives.
Rise in demand for vegan snack bars
Consumers who lead a vegan lifestyle choose to stay away from products derived from animals, whether it be food, clothing or accessories, and they opt for healthy substitutes for meat, dairy and other conventional sources of protein. A vegan diet is perceived to be healthier than a meat-based one. It is estimated that over 7.8 million Americans follow a vegan diet and lifestyle. With the increasing vegan culture, packaged foods like granola bars that have vegan specifications are growing increasingly popular among consumers. As a result companies are driving more varieties of vegan snack bars such as Lenny's & Larry's and others.
Demand for high-protein snack bars
With 80% of U.S. consumers snacking at least once a day, protein and fiber are the two ingredients consumers look for in snack bars. Millennials, baby boomers and other groups are consumers of high-protein snack bars.
Manufacturers tote protein and fiber formulations in their snack bars to capture consumer attention. As
plant-based proteins are rich sources of protein as well as fibers, they are being used as ingredients in the
manufacturing of snack bars. For example, pea protein is used in the making of snack bars, as it contains around 90 percent of protein. In addition to that, it is highly digestible and gluten-free. It is ideal for those who follow diets that have a low glycemic index.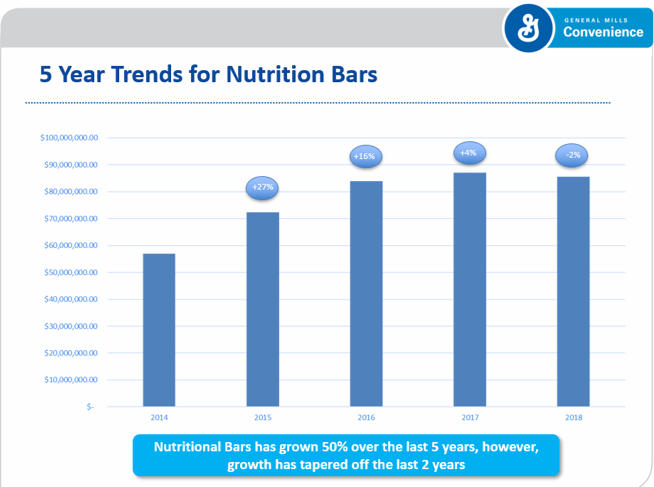 Nutritional bars account for 71.4% of the Snack Bar Category
Performance bars (Heavy Protein) + wellness bars make up the nutritional bar segment and account for a large and growing segment of the category. The treat bar category is sitting at 16.4% with options that are indulgent. The last sub segment is the grain bars at 12.3%.