April 2, 2019
After a fire took the original building, the owners of Pik-A-Pop Mini Mart decided to rebuild. On October 11th 2018 they reopened with a larger space, continuing their tradition of foodservice for the community. Ganta Gill and his business partners Sukhjivan S Gill, Sukhchain S Gill and Sukhmander S Gill have created a 10,000 square foot convenience store to meet the community's needs.
Being a destination location, the menu was of the utmost importance. For the size of the market the best option was a Quick Service Restaurant and they chose Chester's Chicken. With a national brand identity and a full menu of fried chicken, tenders and sides available through the program, this was a great option for them to help bring the community back through their door.
Rebuilding took most of the energy so focusing on a menu required some work but with a good crew in place and support from their Harbor team James Caldwell, Justin Nelson and Sandy Bates they were able to open on time. With the whole team on deck it took a few months for everything to be up and running but now they are supplying the community with fresh fried chicken, a hot case full of signature items and smiles all around.
To further support the brand, they had Watertown coffee installed. As a premium product with regional brand recognition, this was a perfect fit to draw travelers and locals alike. To learn more about these programs and how Harbor can support you with your projects whether a rebuild, an expansion or converting an existing space, reach out to your Harbor Rep today.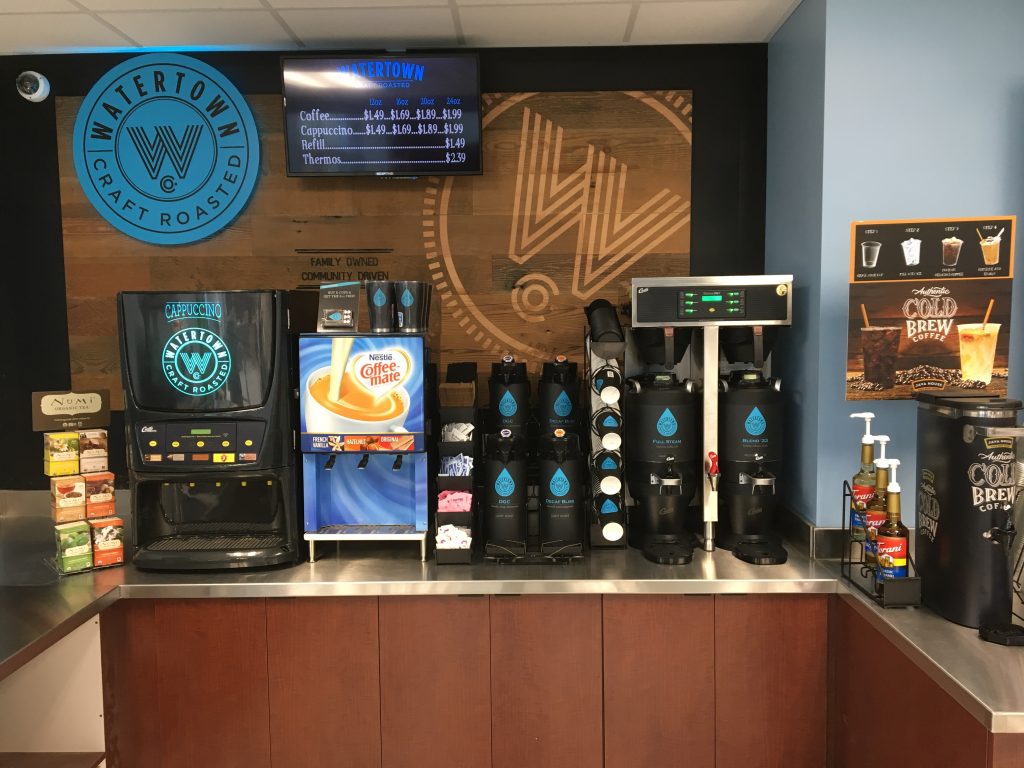 April 2, 2019
Snack Bars have increased 50% in sales growth over the last 5 years.
Snack Bars sales trends are now flattening after 4 years of steady growth, but remains a $85 million dollar category in convenience stores on the West Coast.
What's driving this nutritional sub-segment?
Increased demand for organic snack bars
In today's world consumers are concerned about the origin and quality of ingredients used in the preparation of food products, driving the popularity of organic
packaged foods.  Organic snack bars fit with health-conscious consumers, and "organic" is an attractive attribute that wins over
processed foods with chemical additives.
Rise in demand for vegan snack bars
Consumers who lead a vegan lifestyle choose to stay away from products derived from animals, whether it be food, clothing or accessories, and they opt for healthy substitutes for meat, dairy and other conventional sources of protein. A vegan diet is perceived to be healthier than a meat-based one. It is estimated that over 7.8 million Americans follow a vegan diet and lifestyle. With the increasing vegan culture, packaged foods like granola bars that have vegan specifications are growing increasingly popular among consumers. As a result companies are driving more varieties of vegan snack bars such as Lenny's & Larry's and others.
Demand for high-protein snack bars
With 80% of U.S. consumers snacking at least once a day, protein and fiber are the two ingredients consumers look for in snack bars. Millennials, baby boomers and other groups are consumers of high-protein snack bars.
Manufacturers tote protein and fiber formulations in their snack bars to capture consumer attention. As
plant-based proteins are rich sources of protein as well as fibers, they are being used as ingredients in the
manufacturing of snack bars. For example, pea protein is used in the making of snack bars, as it contains around 90 percent of protein. In addition to that, it is highly digestible and gluten-free. It is ideal for those who follow diets that have a low glycemic index.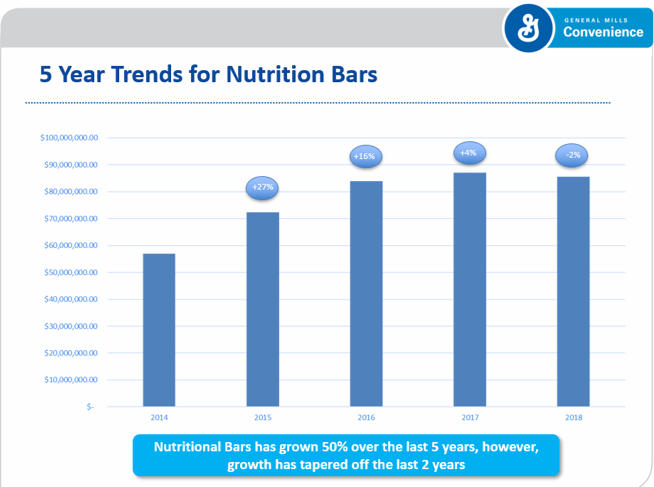 Nutritional bars account for 71.4% of the Snack Bar Category
Performance bars (Heavy Protein) + wellness bars make up the nutritional bar segment and account for a large and growing segment of the category. The treat bar category is sitting at 16.4% with options that are indulgent. The last sub segment is the grain bars at 12.3%.
March 18, 2019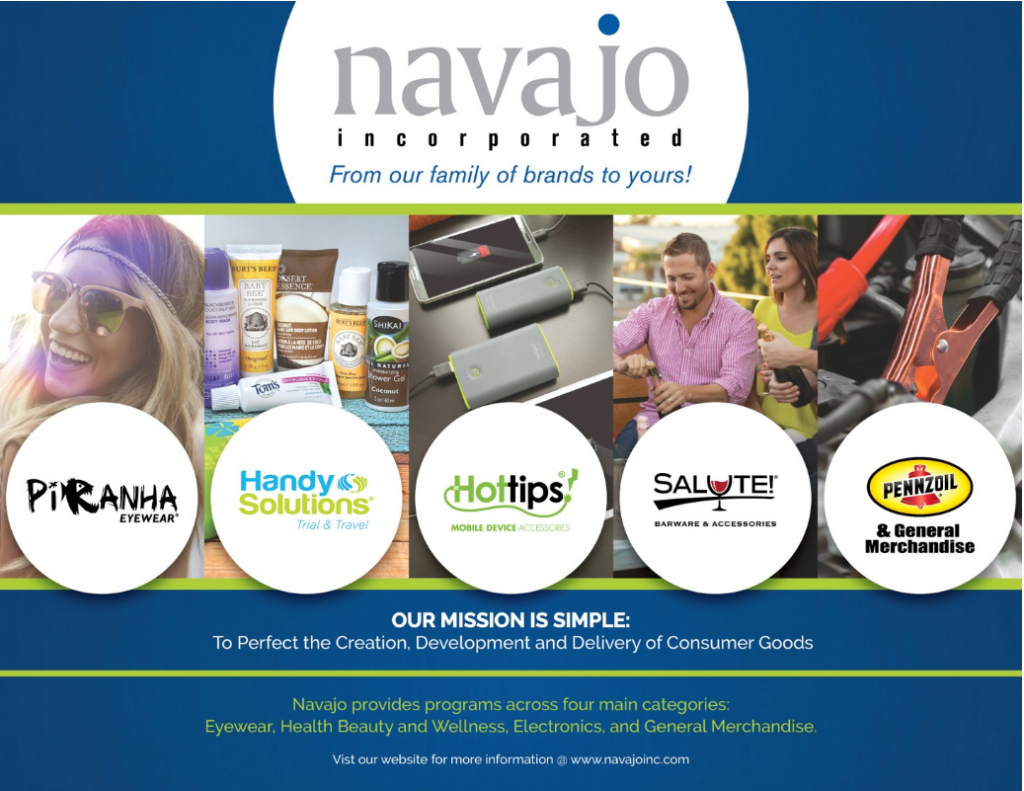 Navajo Program and Category Solutions Navajo Incorporated is the designer, manufacturer and distributor of Piranha® Eyewear, Hottips!® Electronics Accessories, Pennzoil® Automotive Supplies, Salute® Barware and is also the largest distributor of Trial & Travel size Health & Beauty products in the USA.
Healthy & Beauty: Trial size, natrual & organic, multi-cultrual, beauty trial size cross dock or warehouse programs.
Checkstand Program: Fully managers GM and HBW front end program.
Hottips Cell Phone Accessories: Multiple distribution options. Top quality MFI certified products. Full line of packaged and grab & go items. Customizable displays to support multiple placements like inline, side panel, checkstand and promotional.
Eyewear: Multiple distribution options. Fully serviced program with Regional POGs or clusters based on demographics. Customized displays to support multiple placements like inline, side panel, checkstand and promotional.
General Merchandise: Automotive – full line of licenses Pennzoil products or private label capability. Barware, Chefware, Office & Pet are also available.
The Navajo objective is to go beyond just price & products to drive category sales and purchase frequency by enhancing the overall shopper experience.
March 5, 2019
Harbor's Tradeshow is right around the corner, and it's the can't miss event of the year! If you're planning on attending, you will want to make sure to attend our educational Seminars taking place on Friday, 3/15 in Washington and Friday, 3/29 in Oregon.
This year we have two great speakers, Ethan Allen Smith from Owen Jones and Mel Kleiman from Humetrics. Both speakers will be sharing valuable information ranging from engaging more in your community to best practices to hire & retain top talent in the c-store industry. Still on the fence about attending the seminars? Here's 7 reasons why you should go:
– Learn how branding, marketing, and communications can help you stay on top of future retail trends and sales.
– Learn how to become an invaluable resource to your customers and a community staple.
– Learn how to recruit, select and retain great frontline employees and managers.
– Learn tips and techniques you can put to immediate use.
– Learn to build your frontline workforce to boost profitability
– Learn to increase customer satisfaction and make work more enjoyable and fun for everyone!
– Enter to win a $25 Amazon Gift Card and a copy of Mel Kleiman's C-Store industry recruiting book!
Register For Show Today: rsvp.harborwholesale.com
Seminar Information
Washington Show – Friday, 3/15/19 3rd Floor Room 316
Ethan Allen Smith 8AM – 9 AM Engaging With The Community: Moving Beyond Convenience
Mel Kleiman 9AM – 10:30 AM Tools, Tips and Techniques to Find, Hire and Retain Top Talent
Oregon Show – Friday, 3/29/19 Grape & Huckleberry Room
Ethan Allen Smith 8AM – 9 AM Engaging With The Community: Moving Beyond Convenience

Mel Kleiman 9AM – 10:30 AM Tools, Tips and Techniques to Find, Hire and Retain Top Talent
February 1, 2019
River Rock Tobacco and Fuel has cornered the fried chicken market.  With two Henny Penny  pressure fryers and a dedicated team they have built a private label convenience foodservice operation that is cooking all day long.  With the help of Foodservice Developer Drew Rochon the fried chicken focused menu is supplemented with side dishes and convenience classics such as corn dogs and deep fried burritos.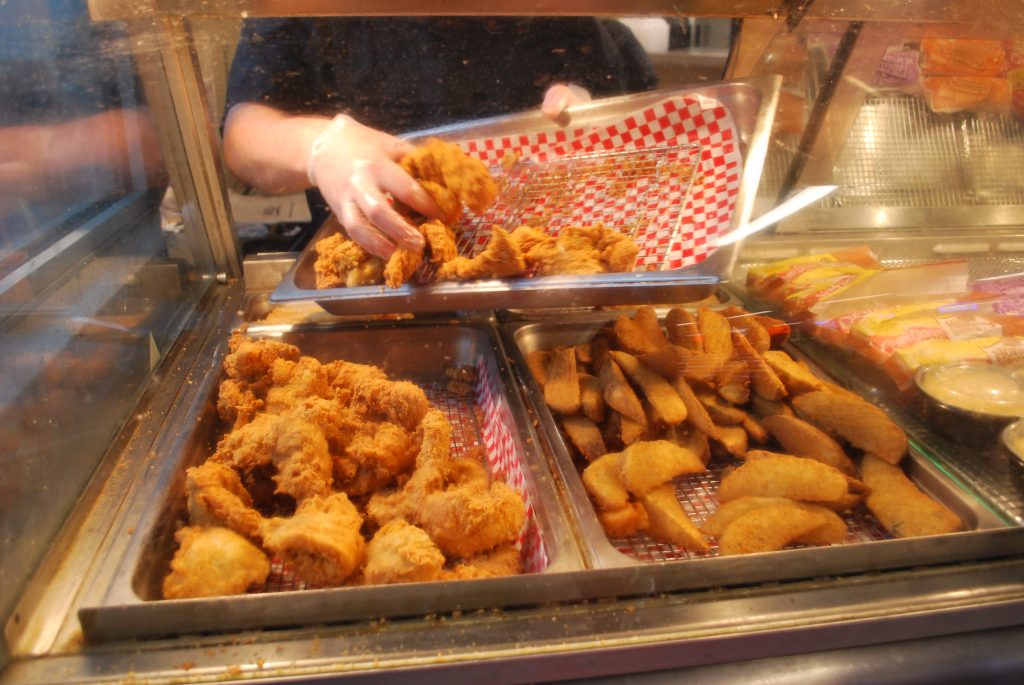 Even with the heavy chicken focus, all day parts are represented.  They do feature breakfast burritos and sandwiches in the morning and having these breakfast standards available is very important for the customer base.  Located just off of I-5 in an area where on-the-go meals and snacks are incredibly important, River Rock has maximized their ability to meet these needs.
Private label is very important to them as their brand is very recognizable in the community.  They have worked with Drew to create their own coffee brand as well as the hand breaded chicken program from the ground up.
Working directly with Harbor Wholesale Foods to build the menu has been a key to their success.  Partnering with their Foodservice developer has opened new opportunities for River Rock to take advantage of everything from menu boards to private label branding.  This partnership has set the store up to continue to support the community that has given them so much.
January 31, 2019
Introducing Gardetto's Crisps
The Gardetto's flavor you know and love now in bite-sized crisps! New, single form poppable bites with a crunch texture. Gardetto's sales have grown +5% over the last 5 years. Original delivers on the much loved flavor of Gardetto's Original Snack Mix and Peppercorn Ranch offers a new mashup that consumers will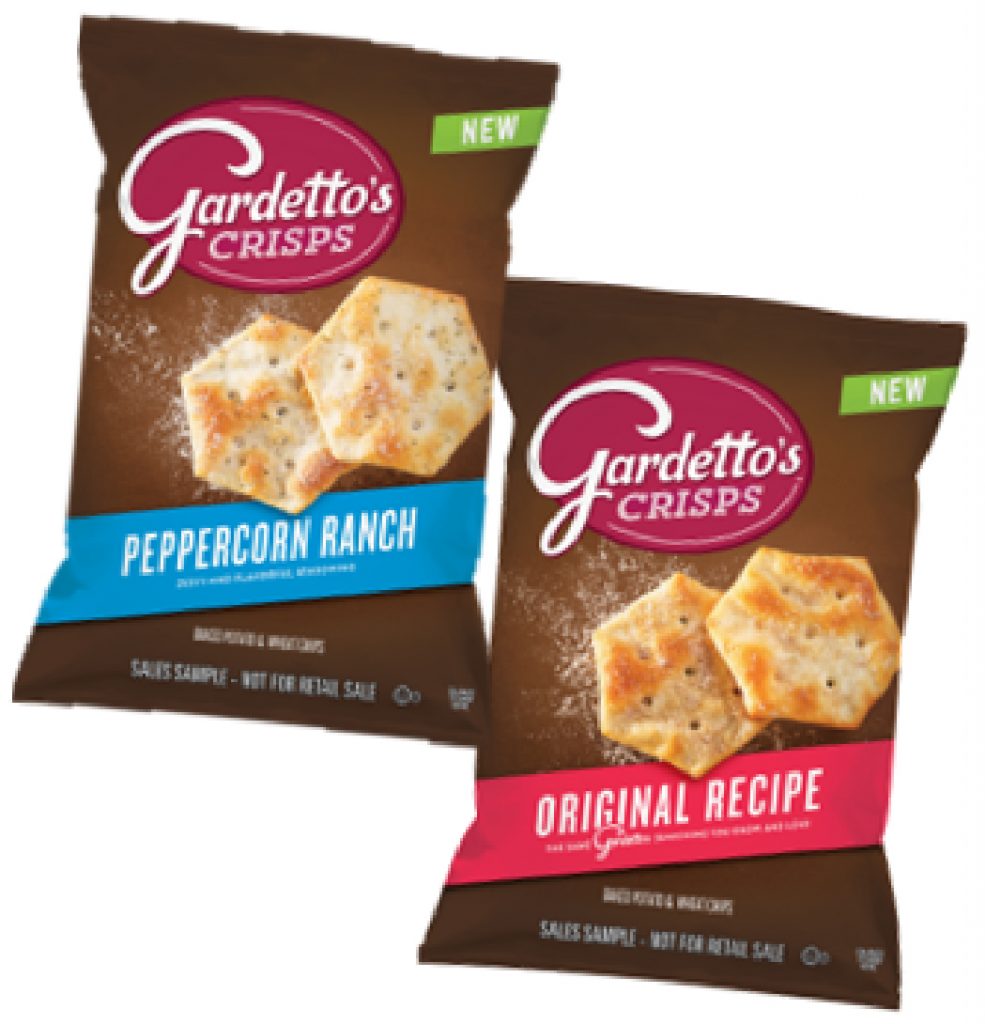 yearn for. C-store shoppers crave different salty snacks depending on their mood. Sometimes it's about eating snacks that provide a mix on flavors, and other times it's about mindlessly eating crave-worthy snacks. Gardetto's checks all these boxes!
Gardettos' Crisps Original Recipe | Harbor Item Number: 5870031
Gardetto's Crisps Peppercorn Ranch | Harbor Item Number: 5870032
EPIC: A brand that can surround your store!
EPIC's innovation is driven by its commitment to utilizing the whole animal and minimizing waste, and also greater influence Supply Chains toward regenerative practices. EPIC isn't an item, it is a brand that can surround your store and build incremental consumer offerings! Consumer are seeking out responsibility sourced foods and animal welfare plays a significant role in the decision making process. 80% of consumer are seeking out natural or organic products and 71% believe sustainable sourcing is important. EPIC bars are non-GMO and cage free. Now available in four great flavors.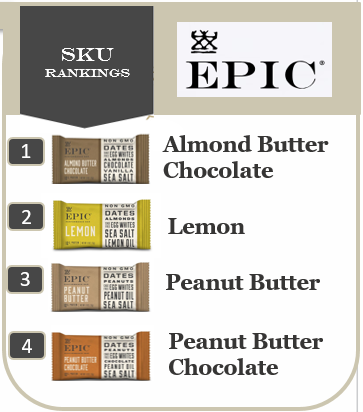 EPIC Almond Butter Chocolate | Harbor Item Number 0910202
EPIC Lemon | Harbor Item Number 0910199
EPIC Peanut Butter | Harbor Item Number 0910201
EPIC Peanut Butter Chocolate | Harbor Item Number 0910203
January 30, 2019
With the abundance of ready-to-drink, cold brew and nitro varieties of coffee and tea trending today, and consumers looking for more varieties and customization, convenience store operators must continually adjust their hot dispensed beverage programs to maintain maximum profitability.
While the motivators for beverage consumption remain the same as always—a boost of energy in the morning and a pick-me-up in the afternoon—consumers, especially younger ones, are always looking for new products to satisfy their needs, according to Mark DiDomenico, director, client services for Datassential research firm.
For some, that could be switching from hot dispensed beverages to ready-to-drink (RTD) from the cooler. For others it might be a new exotic brew or limited time offer (LTO) creamer to add a different flavor to their coffee.
As Millennials and Gen Z consumers take over the primary age demographics, their preferences in food and drink are increasingly driving sales, DiDomenico pointed out.
"These younger consumers are looking for beverage options that combine flavor, authenticity, functionality and a sense of adventure," DiDomenico said. "That could be anything from kombucha to herbal teas."
When it comes to coffee, 100% Colombian has been around for a long time, but now a growing number of retailers are becoming more specific, highlighting different geo-specific regions of counties or even specific farms, he explained.
"There's a mystique about taste and quality that goes along with these coffees similar to wines," DiDomenico added.
At the same time, some things have stayed the same. For example, French vanilla has been the No. 1 favorite coffee flavor, and hazelnut No. 2, for at least 20 to 30 years. And, people like to experiment with flavors through LTOs. DiDomenico said that as a nod to the preferences of younger consumers, operators may want to add some plant-based milks and natural sugars such as turbinado sugar and Stevia to their coffee bars.
SERVING UP PROMOTIONS
Special deals on coffee can also increase customer awareness and sales of hot dispensed beverages.
At Big 10 Mart, which has 15 locations in Iowa and Illinois, hot dispensed beverage sales were down 14% during the first three quarters of 2018 versus 2017, reported Jacque Hager, director of retail operations for the chain.
"We attributed this to more competition and a hotter summer," she explained.
To try and combat those declining sales, the company implemented a 99-cent price point on any size coffee on Mondays. As a result, Big 10 Mart saw a 15% increase in hot dispensed beverage sales during the fourth quarter versus the previous year.
January 29, 2019
We are excited to announce that Harbor Wholesale Foods is now working with Partnership For a Healthier America (PHA) to promote healthier foods to our customers and team members in the Pacific
Northwest. PHA was founded in 2010 in conjunction with Let's Move! by the nation's health and obesity advocates like former First Lady Michelle Obama, and US Senator Cory A. Bookter (D-NJ). PHA brings together companies to establish meaningful commitments and develop strategies to end childhood obesity and promote healthy eating. They also ensure that commitments are kept by working with unbiased, third parties to monitor and publicly report on the progress their partners are making to show what can be achieved when several companies work together. Everyone deserves a chance to be healthy, and PHA works to make healthy food options more readily available in areas
they previously may not have been.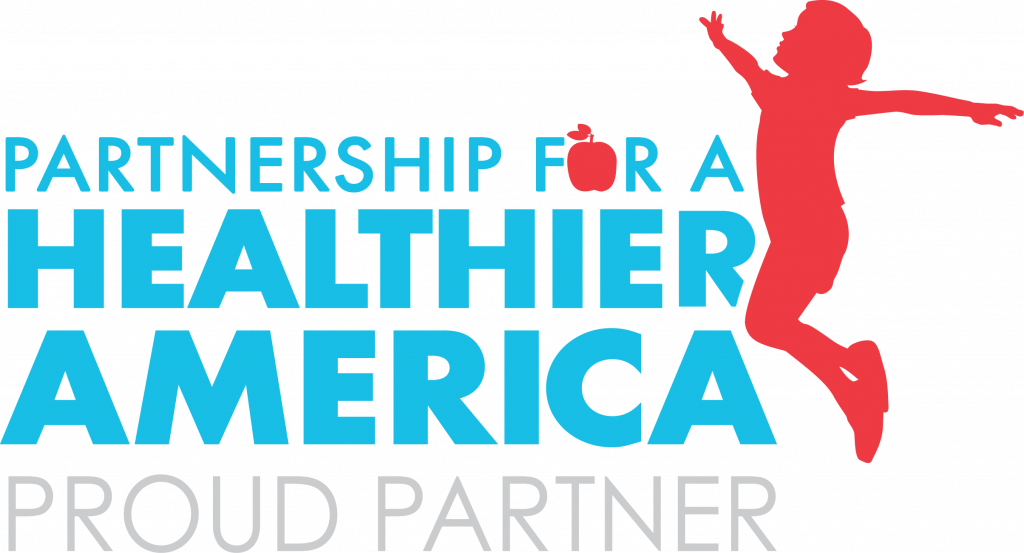 Beginning in 2019, Harbor will be working to update some of our programs to meet PHA's health standards. PHA has partnered with NACS to create a healthier product calculator that allows distributors, like Harbor, to easily identify packaged foods and beverages that meet PHA's Healthier Food and Beverage Product Criteria. The calculator considers the product's nutrient quality (like fat and sodium content) and the product's primary ingredients (such as whole grains or fruits and vegetables) to
determine if it is healthy or not. The programs being updated include our Snack Right Rack as well as our Fresh Zone Cooler. Currently, about 35% of items on the Snack Right Rack meet the PHA health standards, and in 2019 we are going to be updating the rack so that 50% of items fit PHA's health standards. The Fresh Zone Cooler currently has 60% of items that meet the criteria, and Harbor will be working to maintain and improve that.
According to NACS, from 2017 to 2018 more than 61% of convenience retailers said that sales of better-for-you items (fruits/vegetables, yogurts,  nuts, health bars) experienced sales gains.
In addition to updating programs and racks, Harbor will be participating in PHA's campaign, Drink Up. Drink Up was established between PHA and former First Lady Michelle Obama to encourage people to drink more water and more often. You are what you drink, so drink up! Harbor will be creating point of sale materials to promote water consumption as well as begin promoting water consumption around our office.
According to a 2016 report from NACS, bottled water outshined soda in sales for the first time in U.S. history. Bottled water producers pointed to American's desiring portable, calorie-free beverages for the increase in bottled water sales. This trend is predicted to continue in the coming years.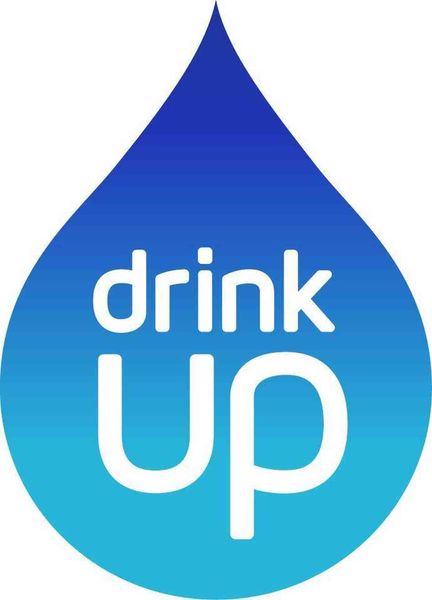 While you're flipping through this month's Retail Solutions, be on the lookout for the PHA Proud Partner Logo. The items designated with this logo meet the PHA Healthier Food and Beverage Product Criteria. The New Year is a great time to start offering more healthy products as customers will be seeking these items out. We also will be adding the Proud Partner logo to items in our Foodservice Solutions book and our monthly
e-newsletters, Fresh Ideas and Popular Products.
Harbor is excited to grow the offering of healthy products that we supply and make them more available for our customers around the Pacific Northwest. Here's to a healthier 2019 and beyond!
January 9, 2019
Registration for Harbor's 2019 Tradeshow is now open! The 2019 Harbor tradeshow is the can't miss event of the year. The show will provide the ammunition you need to defeat the challenges in the business and create a winning strategy for 2019 and beyond. The C-Store industry is evolving quickly and this is your opportunity to meet with vendor partners and network with other like-minded retailers who are all focused on building their business.  Still not sure if you should attend? Here are 10 reasons why you should:
1. New vendors for Harbor with exciting new products
2. Great networking opportunities with other Harbor customers and Vendors
3. Customer dinner, entertainment and customer appreciation
4. Awesome prizes based on purchases or raffle drawings at vendor booths
5. Foodservice booth where you can sample products and get great new ideas for foodservice programs
6. See our Zone Programs in person and sign up for them at the show!
7. Try loads and loads of tasty new food items!
8. Best deals of the year!
9. Dress up, and have fun with the sports theme!
10. Meet local vendor Partners and learn about their products
Register today for the show by clicking here

January 9, 2019
Meat Snacks continue their explosive growth, averaging 7+% growth per year for the past 5 years, and is projected to hit $3 Billion in 2018. Meat Snack growth is in the top 5% of all food category growth in retail stores. Meat Snacks remain the top seller in c-store alternative snacks, with sales racking up more than double that of health, energy and protein bars. In the 52 weeks ending on September 22nd, 2018 meat snacks sales in convenience stores totaled over $1.5 billion, a 3.6% increase from the same period in 2017, according to Nielsen.
Meat Snacks are up 30% in sales growth over the last 5 years.
Consumer lifestyle changes are one reason for Meat Snack growth. High protein, paleo, keto and mediterranean diets are popular. There are 35 million
households with at least one person on a diet. Claims fueling the growth are all natural preservatives, and clean label ingredients.
Meat Snacks are growing +1.1% in Northwest convenience store market this year. Harbor Wholesale Meat Snacks growth is +6.0%, six times the growth of NW
Convenience. Most notably, consumers are switching to larger sized packages. For example, standard (3-5 oz.) size jerky sales declined ($783,555) in the Northwest, while large and extra-large (>5.0 oz.) jerky/sticks grew +$1.2 million! Large and extra-large sizes now represent 28% of jerky sales, which is double from a few years ago. Popular large size products on the Harbor schematic include Oberto 9 oz. jerky and Old Trapper 10 oz. jerky. These items are a great way to increase basket ring in the store.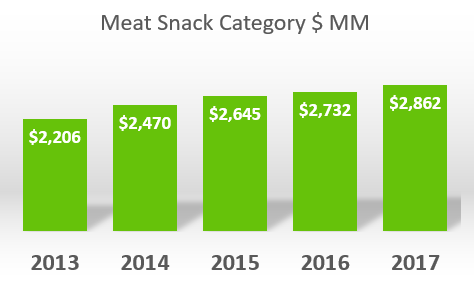 American households spend an average of $25.81 per year on meat snacks. Their pre-trip spend on sticks and jerky at $7.42 is also twice as much as it is on staples like potato chips, which are at $3.61, and popcorn, which totals $4.01, according to Nielsen. In terms of age groups, baby boomers are the biggest buyers, spending $28.48 per year, making them 10% more likely to buy meat snacks than the average shopper.
Meat Sticks grew +0.7% in the Northwest this year. Oberto Cocktail Pep and Smok-A-Roni are the top two selling stick items which can be merchandised either in a caddy or pegged, and have the highest dollar growth within Harbor Wholesale Meat Stick products. Slim Jim Monster 1.94 oz. items are highly ranked items that are growing in the Northwest and in the Harbor portfolio.
Bulk products account for 22% of sales dollars.
Bulk, or unwrapped jerky represents 22% of total meat snack sales. The Tillamook bulk program is the most popular modular floor display.
The Oberto Cocktail Pep acrylic counter top display is the highest volume at Harbor.