Meat Snacks Up 44% in Sales Growth Over The Last 7 Years
April 13, 2020
Meat Snacks continue their explosive growth, averaging +6% per year for the past 7 years, and is projected to hit $3.35 Billion in 2020.  Meat Snack growth is in the top 5% of all food category growth in retail stores.

What's Driving The Growth?
Consumer lifestyle changes. "One in three U.S. consumers indicated they were following a specific diet or eating pattern. Many of these trending nutrition plans put limits on carbohydrate and sugar intake" (Berry 2019).  This increased following of diets that prioritize fat and protein intake are fueling the meat snack category, and are gaining traction year after year.
Meat Snacks are growing +8% in Northwest convenience stores this year. Most notably, consumers are switching to larger sized packages.  For example, standard (3-5 oz) size jerky sales declined ($500k) in the Northwest, while extra-large (>8 oz) jerky/sticks grew +$2.1 million! extra-large sizes now represent 35% of jerky sales, which is double from a few years ago.  Popular large size products on the Harbor schematic include Oberto 9 oz jerky, Cattleman's Cut 10 oz jerky, and Old Trapper 10 oz jerky.  These items retail for ~$15.00 and are a great way to increase transaction size in the store.
Meat Sticks grew +18.6% in the Northwest this year.  Oberto Cocktail Pep and Smok-A-Roni are the two top selling stick items.  Bavarian Meats Landjaeger and Slim Jim Monster 1.94 oz items also have notably high velocities in the Northwest and Harbor.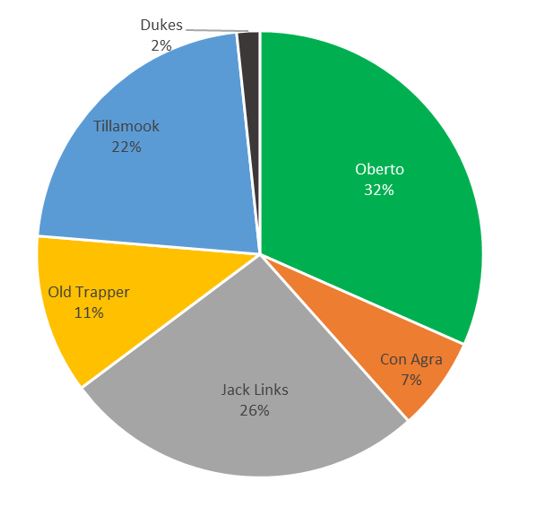 Bulk products account for 19% of Sales
Bulk, or unwrapped jerky represents 19% of total meat snack sales.  The Tillamook bulk program is the most popular in their modular display, as is the Oberto Cocktail Pep counter top display.  Bulk Products accounted for 22% of all $ sales in 2018, this decrease from 22% to 19% is driven by bulk consumers trading up to larger packaged sticks.